8V A3/S3/RS3
EMD Audi A3/S3/RS3 8V Adjustable Rear Sway Bar End Link Set (With Dust Boots)
EMD Auto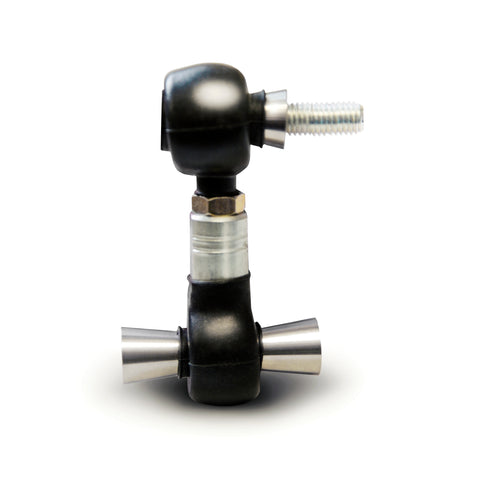 Higher quality end links are a must when upgrading to a stiffer sway bar!
Our end links serve two primary purposes:
- Steel body will not flex or break under the load of a stiff sway bar
- Adjustable length allows for removal of pre-load on the bar
Features include:
US Made FK Rod Ends - Our end links use only the highest quality FK rod ends. What this means to you is our end links will take repeated abuse and track time without developing play in the bearing. The rod end also features a teflon liner, which keeps dirt and contaminants out of the bearing. Do not assume that all rod ends are created equal. One of the primary cost drivers for end links is in the rod ends, and we use only the best available. 
Stainless Misalignment Spacers - Custom stainless steel misalignment spacers allow more range of motion for the rod end. This allows for full movement without noise or binding.
Adjustable Length - With non-adjustable end links, the sway bar can become "loaded", causing uneven ride height height and improper balance between each wheel.
Dust Boots - While the teflon lined bearings already resist contaminants, we add an extra layer of protection with the included dust boots. The function of dust boots is to seal the rod end, ensuring that no dust or road grime can get into the bearing and cause it to wear prematurely. With our included dust boots, you can rest assured that your end links are suitable for even the harshest of environments.
Please note that the stock hardware (M8 bolt & nut, M10 nut) are reused from the OEM end link.
One order includes (2) end links, the required amount to replace both stock rear end links.
Customer video showing proper transmission of stress to the sway bar:
---
More from this collection