Bull-X 3" Catback Exhaust For Audi A3 1.8T (8V)
Bull-X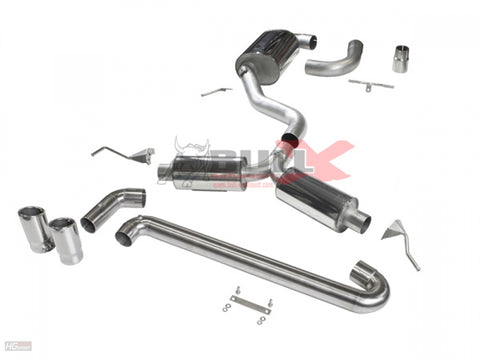 The Bull-X exhaust for the 8V A3 1.8T is a 3" system designed around the abosorbtion principle, meaning there are no chambers (resulting in the best exhaust flow). Handmade in Germany, this system features bead blasted 304 stainless steel with polished mufflers. Available in multiple configurations:
Non-resonated: Uses only the two rear mufflers. Best for cars with stock downpipe, or catted downpipe. Can be loud and drone on cars with decat downpipes.
Resonated: For a more tame sound profile, or for those with a catless downpipe looking to minimize drone. Features two rear mufflers and center MOLI resonator.
Video below shows MK6 version, which will be the same exhaust just with a different tip configuration to suit the A3.
---
More from this collection