CTS Turbo 4″ Turbo Inlet Pipe For 8V.2 Audi RS3/8S Audi TT-RS
CTS Turbo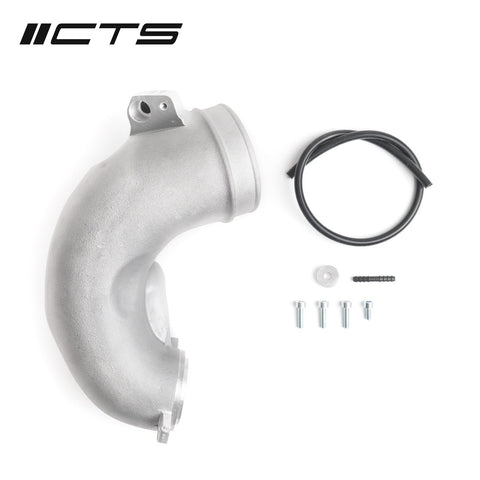 DESCRIPTION
CTS Turbo is proud to announce our 4″ turbo inlet for Audi 8V.2/8S – RS3/TTRS.
The biggest issue with the restrictive factory inlet is apparent when you start to increase the power. Our engineers designed the turbo inlet to be as large as possible; yet still fit perfectly. This was accomplished using the latest in 3D scanning and rapid prototyping technology. This results in a 78% increase in volume over the stock turbo inlet.
The larger inlet will provide increased flow to the turbo and make sure your 2.5T has all the air that it needs to operate at maximum capacity! This is one of the largest inlet pipes on the market AND it does not cost you a small fortune.
Features:
4″ cast aluminum turbo inlet pipe
Precision machined fitment for factory turbo (hybrid turbo fitments coming soon)
Factory-style PCV connection
Developed, tested and machined in-house
Compatible with most aftermarket intakes (3″-4″ reducer or 4″ coupler is required, confirm on vehicle)
Fitment:
2017-2019 Audi RS3 8V.2 (DAZA and DWNA)
2017-2019 Audi TT-RS (DAZA and DWNA)
Does not fit Right Hand Drive vehicles.
---
More from this collection