EMD Auto 2017+ Audi A5/S5 (B9) Linear Lowering Spring Kit
EMD Auto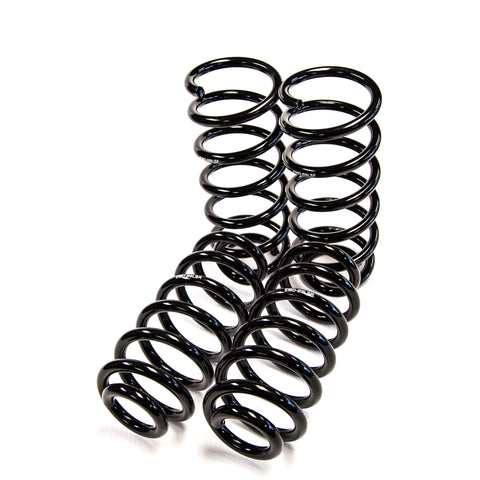 After our longest development cycle to date, we are pleased to release our lowering springs for the B9 A5/S5 (Coupe & Sportback) platform. Through months of testing and thousands of miles logged, we have created what we feel is the best lowering spring option for daily driven vehicles. As with any of our lowering spring options, the goal with our B9 lowering springs is to keep ride quality as close to stock as possible, while adding an OEM+ level of drop. 
Having a B9 in our development fleet allowed us to spend a lot of seat time in the vehicle. This was especially advantageous in our development process, as we were able to log many miles over various surfaces and road imperfections. We felt that the car offered a very comfortable ride in stock form, and this was something that we did not want to sacrifice. With our lowering springs, we feel that we have found the balance between adding some sportiness while still keeping the ride quality that you expect from a premium Audi. 
Each spring set is 100% made in the USA exclusively for EMD Auto. The springs are made of high tensile chrome silicon and each unit is shot peened, pre-set and 100% tested to ensure all the critical dimensions and rate/loads are within tolerance. Each spring is zinc primered for increased corrosion resistance, then powder coated with a gloss black finish for an OEM appearance. The use of high tensile chrome silicon, as opposed to typical commercial grade chrome silicon, allows us to create a lighter spring that can sustain repeated deflection without deformation. High tensile chrome silicone will typically have thinner coil diameters that are spaced further apart, when compared to commercial chrome silicon.
A5 (Non Sport): 1.6" Lower Front & Rear
A5 (Sport): 0.8" Lower Front & Rear
S5: 1.0" Lower Front, 0.8" Lower Rear
Stock Front: 250 lb./in.
EMD Auto Front: 300 lb./in.
Stock Rear: 260 lb./in.
EMD Auto Rear: 340 lb./in.
"Some feedback on the EMD Auto lowering springs installed yesterday.

The drive back was about 25 miles, which consisted of light to light traffic, aggressive parkway entrance and exit, and going through a work zone (uneven, spotty roads with some pot holes), basically daily commuting condition in suburban New York.

Ride height - much of the factory non-sport suspension gap is eliminated, probably an inch of gap left and would wait until it's settled to really give a verdict. The drop so far is ideal for my daily needs and I used to have a slammed sedan.

Ride Quality - I think they nailed it when they said the ride quality isn't compromised and kept as close to stock. It felt close stock going over bumps, potholes and any other abnormalities the road had. A bit stiffer, but in a good way where you feel more planted at higher speeds and less body roll during aggressive driving.

Product Quality - not much I can comment on this, I received the package and everything was packed nicely, 2 front springs with front bump stops and 2 rear springs. Even came with a bottle opener (kudos!) and lanyard!" - Audi / Rings (Audizine.com)
---------------------------------------------------------------------------------
"I finally had my EMD Auto lowering springs installed. I'm amazingly happy with the ride quality and drop. The ride quality is very close to stock with very little change but the handling is much better. I'm not having any type of vibration or misalignment issues so far but probably get the alignment done anyways. EMD delivered on their promise to keep the ride quality intact and they succeeded.

I had this negative thing that it was going to look slammed and that the ride quality was going to suffer but I was completely wrong. I will post pictures later on today." - jorgecopa (Audiworld.com)
---------------------------------------------------------------------------------
I got the EMD Auto springs and sway bar installed yesterday and I love it. The ride is maybe very slightly firmer, but not so much that it bothers me. It really is very close to stock.

The sway bar, however, has made a huge difference. Body roll is dramatically reduced, especially in long, sweeping turns (like on an exit ramp). Overall the suspension feels much tighter. - BiscuitEmbryo (Audiworld.com)
---------------------------------------------------------------------------------
I've had mine on a few weeks on my b9 s4 with sport suspension and I really like them, in comfort mode they ride great, put it in dynamic and handles even better, i agree with the comment above, dropped my car about an inch but since this is my daily i didn't want it slammed. Perfect ride height for me. - Da_Big_Sweed (Audizine.com)
Lowering Springs - The heart of our lowering package is the springs themselves. Featuring a linear design with unique rates and geometry, our lowering springs are a direct replacement for the stock units.
Are these springs okay for a daily driver?
Yes, these springs were specifically designed for daily driven vehicles with an emphasis on ride quality.
Will lowering springs cause my factory shocks and struts to wear out prematurely?
Our springs are a linear rate design, similar to the OEM units. As such, they are not expected to cause additional wear on the shocks and struts. The spring heights are also designed to stay within the travel range of the factory shocks and struts. Much of our development was on the non-sport package A4, as this vehicle will employ a larger drop than the sport package vehicles. By precisely examining the factory bump stops, spring rates and motion ratios, we have created a true no compromise lowering solution for both non-sport and sport package B9's.
Do I need any other items for install?
No other items are needed for install. For improved handling performance, we also recommend our rear sway bar upgrade. 
Do I need to trim the bump stops?
We recommend trimming the rear bump stops by approximately 0.75" on non-sport A5's.
All EMD Auto branded lowering springs are covered by a limited lifetime Warranty to the original purchaser. The Warranty covers the Products against factory defects in material and workmanship, other than coatings, when used on the advertised application under normal use and operating conditions. These Warranties only apply to the original purchaser who retains ownership of the vehicle on which the Products were originally installed (the "Purchaser"). EMD Auto will repair, replace or refund the purchase price of the defective product at their sole digression, which shall fully satisfy and discharge any and all warranty claims.
This Warranty does not apply to any products:
That have been improperly installed or have not been properly installed by a qualified auto mechanic with experience in the removal and install of suspension products.
That have been misused, modified, altered or subjected to an accident or collision.
That have been installed in conjunction with aftermarket supporting items.
Presented for warranty coverage by a person other than the Purchaser.
Presented for warranty coverage after being used on a vehicle other than the one on which it was originally installed.
To make a claim, the Purchaser should contact EMD Auto or the dealer/ distributor from which the Products were originally purchased. Any and all returns must be accompanied by:
A sales receipt verifying the purchase of the Products
A statement containing the Purchaser's contact information, make and model of the vehicle and a brief description of the claimed defect, along with the circumstances under which the defect occurred.
Warranty claims made without the required supporting documents can lead to delay and/or rejection of the claim. C.O.D. or collect shipments will be refused. Once the returns are received, EMD Auto will evaluate the Products, verify the proof of purchase, and investigate the statement.
The Purchaser is responsible for returning the Products to EMD Auto, including shipping costs as well as costs incurred for removing and installing the Products on the vehicle. EMD Auto does not warranty labor costs.
---
More from this collection