Front HPS 5.0 Performance Brake Pad Set For 8v RS3 Steel Brakes
Hawk Performance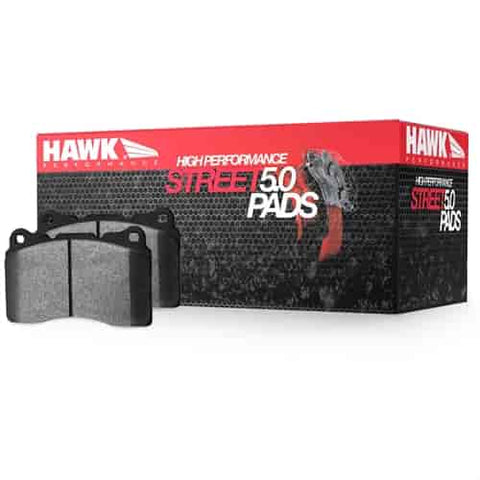 High Performance Street 5.0 is one step closer to giving you the greatest stopping power and pedal feel for your vehicle with out compromising your ABS.  Too much Brake Torque and your ABS goes into ICE mode, too little and there is no improvement to the product.  Pedal feedback, Noise, Brake Torque and Dust control was the goal with High Performance Street 5.0.

The new High Performance Street 5.0 Pads are a Ferro-Carbon compound brake pads that provide advanced braking characteristics to enhance the driving experience.  This new compound combines the safety and quality of aerospace design partnered with the braking technology of motorsports.  The results are shorter stopping distances, improved performance under heavy braking conditions and friendly street car characteristics.
Hawk High Performance Street 5.0 Pads offer more stopping power and greater resistance to brake fade, elevating your street car's performance.  This makes them more responsive and durable than most standard original brakes.

As standard brake pads wear, brake dust is released as the friction material wears in everyday braking. Hawk High Performance Street 5.0 brake pads are formulated to produce and release extremely low levels of dust in normal street driving conditions while also being very quiet.

Key Features and Benefits of Hawk Performance HPS Brake Pads:
Pushing the Limits of ABS
Decreased stopping distances
Improved pedal feel from initial pressure through entire pedal stroke
Minimal fade under higher temperatures
High friction/torque hot or cold
Gentle on rotors
Very quiet, low noise
Improved braking over OE pads
Extended pad life
Made in the USA
Replaces OE part number: 8V0 698 151 M
PEM pad wear sensor is not compatible with these pads. We recommend using your old sensor to make a delete in order to keep a warning light off.
---
More from this collection