HG-Motorsport Direct Fit Intercooler For Volkswagen MK7/MK8 Golf, GTI, R & Audi 8V A3 & S3
HG-Motorsport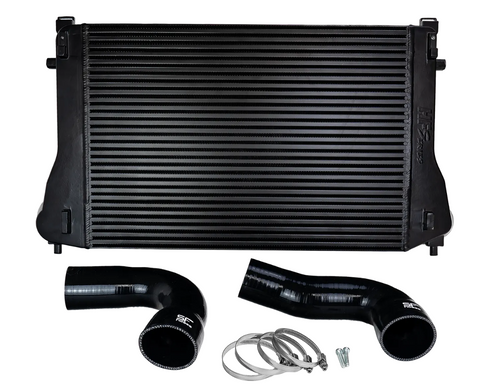 Made in Germany, the HG-Motorsport intercooler uses a high quality bar & plate core to provide excellent coolant capabilities in a robust construction.
Offering a high level of heat resistance to maintain cooler temperatures when compared to similar units, the intercooler is also engineered for the highest flow. This means that pressure loss is kept to a minimum, with air flow being maximized through CAD-flow analysis.
The end tanks are a high quality cast construction, featuring internal "Way Fin Technology" to direct air across the entire core (ensuring the best cooling possible).
The intercooler is a direct replacement for the stock unit, requiring no trimming to the core support. It accepts the stock intercooler hoses, or similar aftermarket replacement.
Fitment for MQB 2.0T Golf, GTI, R and 8V A3, S3.
Technical Details:
Length: 620mm (core)
Height: 430mm (core)
Depth: 50mm (core)
Corevolume without cast: 12.679cm³
Core: Bar & Plate
Direct comparison:
                       Stock                           HF-Series
Size                 620mmx398mmx30mm    620mmx430mmx50mm
Volume            7,402 cm³                       12,679 cm³
The advantages of this product are:
Please click on images for larger view.
1. Improved flow and uniform pressure distribution for maximum efficiency:
With our WAY FIN TECHNOLOGY we achieve an even better flow and a more uniform pressure distribution through the entire intercooler through a guiding fin in the end tanks, thus achieving maximum efficiency.
3. Earlier Response & Improved Performance:
(Performance differences after third test run)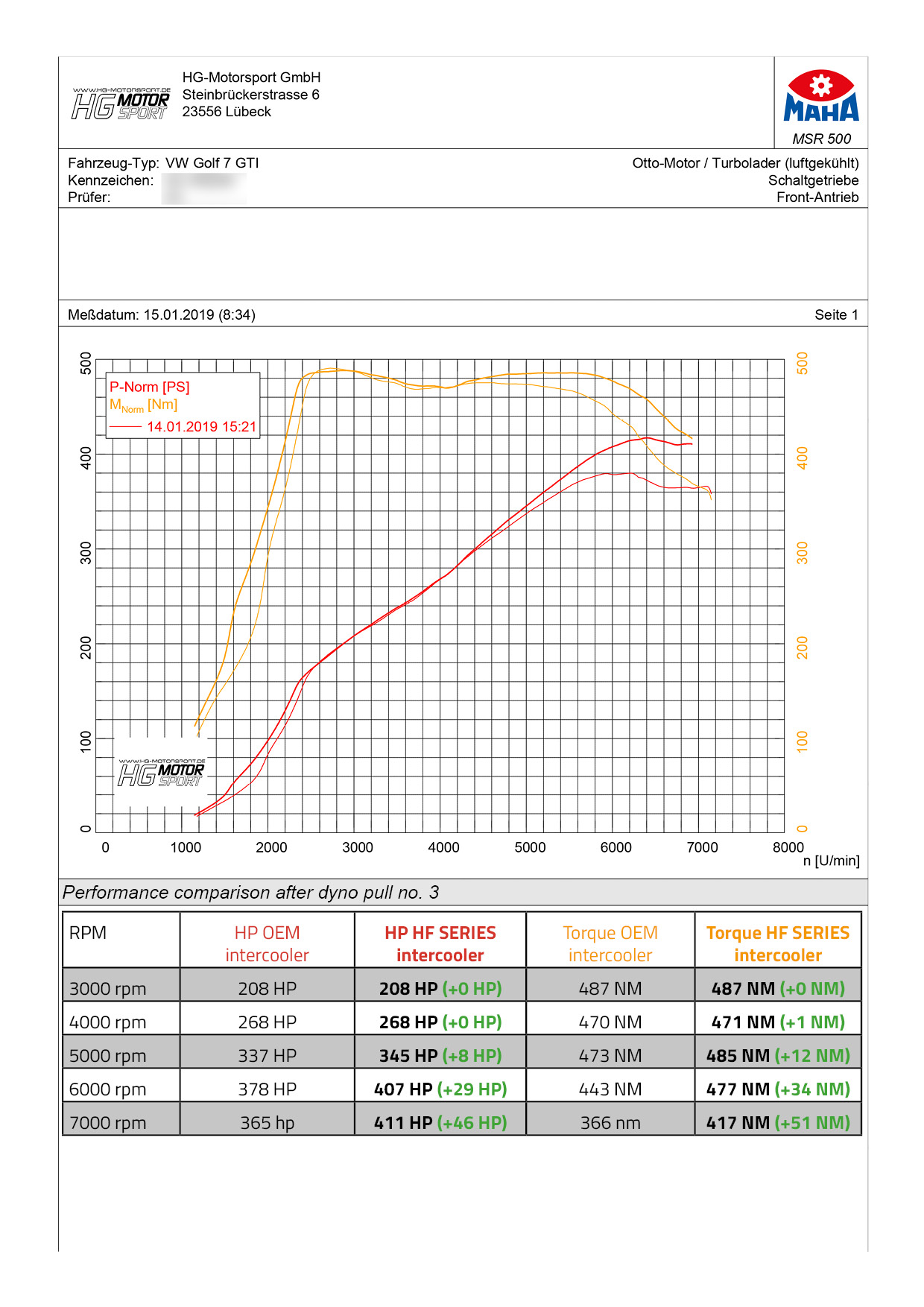 ---
More from this collection