UNITRONIC INTERCOOLER FOR 8Y RS3, 8V.2 RS3 AND 8S TTRS
Unitronic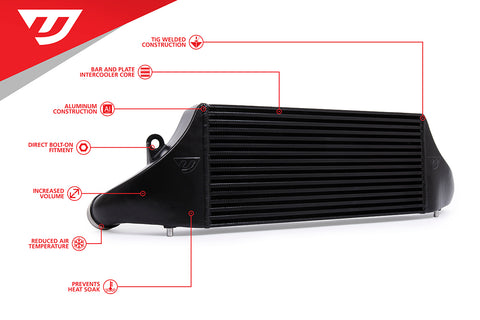 Specifically designed to fit vehicles equipped with 2.5TFSI EA855 EVO engines, this Unitronic Intercooler Upgrade Kit is a direct OEM replacement featuring an over-sized 24" x 10.2" x 3.54" bar and plate intercooler made from a cast aluminum core and end tanks, proprietary internal fin and louver configuration, and a TIG welded construction.

Unitronic's 2.5TFSI Intercooler Upgrade is available with a black or raw finish and will resist heat-soak and provide efficient cooling in any driving condition.

Read the full release article here.
Features / Benefits
Highly efficient bar & plate intercooler core
Drastically reduces charge air temperature for cooler, more dense air
Significantly more resistant to heat-soak
71% more volume than OEM (Unitronic Core Dimensions: 24" x 10.25" x 3.5" / 610mm x 260mm x 90mm)
Cast Aluminum end tanks
Direct OEM replacement; no bumper, radiator support, or other trimming required
---
More from this collection