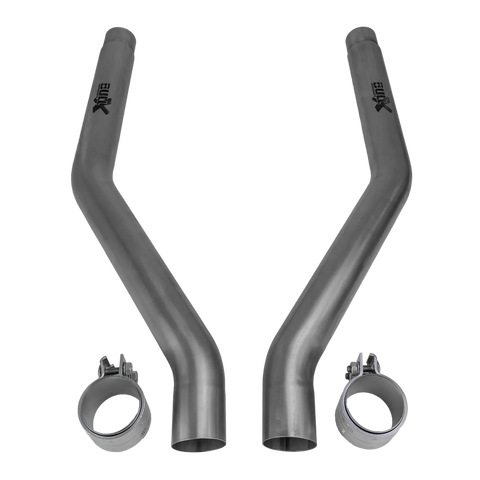 Free shipping in the US!
For those looking to unlock more sound from their B9 RS5, without spending a fortune on a full exhaust, the Bull-X resonator delete pipes are for you! As a simple plug and play replacement for your factory resonated section, the resonator deletes do not require any welding for installation. One cut is made to the factory resonated section, with the other end of the pipe connecting to the OEM sleeve clamp. Other features include:
 - Stainless steel construction
 - Made in Germany
 - No welding required
 - Plug and play installation with only one cut required per pipe
 - Ability to return to stock resonated pipes using the included adapters
 - Price includes both pipes and required hardware for installation. We recommend exhaust paste on sleeve clamps to ensure a leak proof installation.
The product has now been updated to only have a 65mm connection. This is standard for pre-facelift and facelift RS5's. 
If possible, it is always best to confirm your exhaust diameter prior to ordering.
Please email us at sales@emdauto.com for assistance. 

---
More from this collection