BMW
EGO-X "Race" 2,75" Catback Exhaust for BMW M3 F80/ M4 F82
Bull-X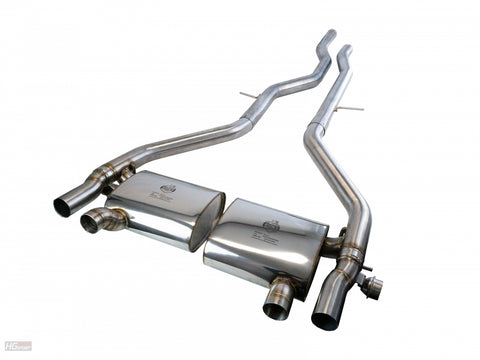 This EGO-X exhaust system for BMW M3 / M4 is handmade in Germany using the finest materials and workmanship. 
The system utilizes pneumatic valves, which can be controlled even when the vehicle is stationary. If using the Bull-X Tronic unit, you can control the valves using the drive mode selection.

Otherwise you can choose between a remote control or toggle switch. 

Technical details
- Pipe diameter: 2,75" (70mm)
- Pipe material: stainless steel
- absorption silencer: handmade in our company
- Bull-X Tronic flap control
- No ECE type-approval
- From catalyst

Delivery
- Exhaust Catback
- Bull-X Tronic (if selected)
- Tailpipes (if selected)
- Installation Instructions
- Mounting material

Suitable for following models:

Vehicle  Type                     Engine Code  Capacity    kW   HP

BMW      M3 F80                    

S55 B30 A

      2979cm³    

317  431


BMW      M3 F80 Competiton   

S55 B30 A

      2979cm³    331  450
BMW      M4 F82                    

S55 B30 A

      2979cm³    

317  431



BMW      M4 F82 Competition  

S55 B30 A

      2979cm³    331  450
---
More from this collection