CTS Turbo Modular 2.0 TSI E888.1 Turbo Air Intake System
CTS Turbo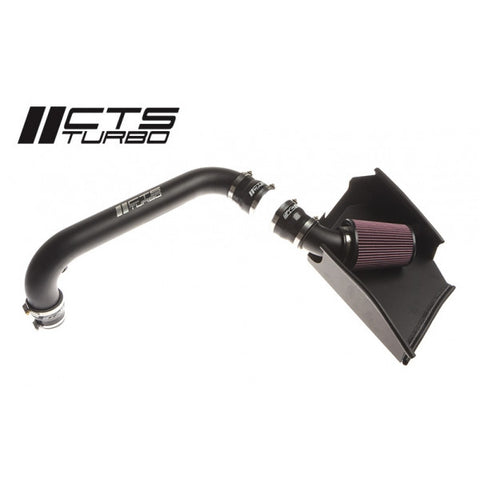 This item ships free in the continental United States!
At CTS Turbo we are proud to announce our new air intake system for the VW/Audi range of vehicles. 
The OEM air scoop works in conjunction with our sealed airbox to seamlesly force cold air into our air intake system.  Air then flows through our high flow cone air filter, which utilizes an inverted cone design for maximum engine breathing.  Our single piece CNC mandrel bent aluminum intake pipe allows for smooth entry of cold air into the the engine providing peak power gains ranging from 9-15WHP. By using a factory MAF housing, you can be sure that fuel trims will remain perfect.
All of the components included in the CTS air intake system work flawlessly together to provide increased horsepower and torque throughout the entire power band and an aggressive race-inspired sound.
Product Details:
- Mandrel bent aluminum piping with black powder coating
- Reusable air filter with inverted cone design
- 4 Ply silicon connectors with stainless steel clamps
- Sealed air box with rubberized trim
- Bracketry to prevent rattling under engine torquing
- Gains ranging from 9-15WHP

 This Kit will fit the following cars:
-MK5 GTI with TSI motor
-MK6 GTI
-MK6 Jetta GLI
-Passat CC with TSI motor
-New Beetle with TSI motor
-Audi A3 with TSI motor
Please confirm if your car requires a breather filter for the secondary injection system: look for the hose connected to the airbox behind the driver's side headlight. 
NOTE: please note that your OEM MAF housing is used to connect the filter to the main intake pipe.
---
More from this collection