EGO-X 3.5" Catback Exhaust For Volkswagen Golf R (MK7 & MK7.5)
Bull-X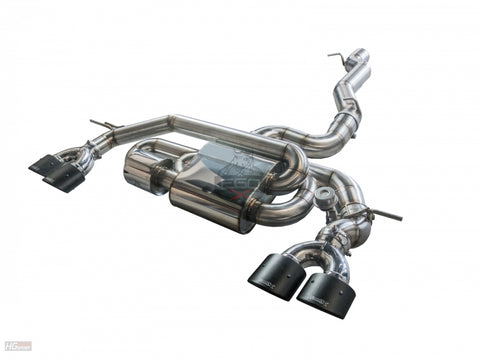 Free Shipping In The US!
The EGO-X exhaust is handmade in Germany using the highest quality materials and fabrication. Featuring 3.5" diameter piping, exhaust flow is maximized for both sound and performance. The EGO-X exhaust utilizes a robust pneumatic valve, which allows for a dramatic sound profile difference depending on the mode chosen. With the valve open, the exhaust will completely open up, with gases being routed entirely through the 3.5" piping.
With the valve closed, the gases will route through two baffled chambers to keep sound to a minimum (over 10 dB less in most cases). In this instance, the EGO-X offers a true "Jeckyll & Hyde" personality. Compared to the 3" EGO-X system, the 3.5" will offer more volume with the valve opened, and more absorption with the valve closed.

The valve control is offered in multiple configurations:
 - Toggle switch (standard)
 - Remote control (open or close depending on button)
 - CAN-Bus control unit, allows operation through factory modes
The CAN-Bus unit is our most popular offering, and is recommended for a truly unique experience. This allows for a factory-like integration, but of course with a much improved sound profile. Phone app integration is also available soon, and is compatible with the CAN-Bus control unit.
---
More from this collection