EMD Auto Audi TTS & TTRS (8S) 2015+ Linear Lowering Spring Kit
EMD Auto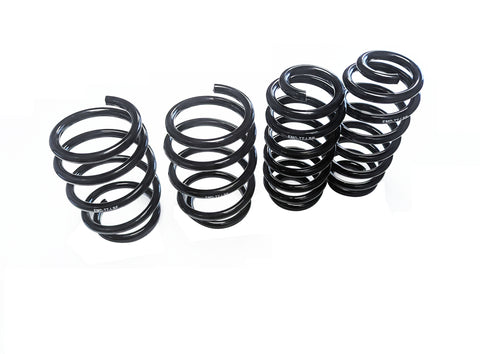 After many requests, we are pleased to release our lowering spring kit for the 2015+ Audi TTS & TTRS (8S) sedan. With the success of our 8V S3 & RS3 springs, we have been eager to apply our experience to the TT platform. Similar to our other spring offerings, we went into the development process with a goal of maintaining OE ride quality and characteristics, while offering an aesthetically pleasing and functional drop. After testing multiple revisions, we feel that we have met and exceeded this goal.
We specifically opted for a linear spring design (similar to OEM), as in our experience, this pairs very well with the stock dampers. For those who've had a poor experience in the past with lowering springs feeling bouncy, crashy and all around poor in terms of ride, we feel that our lowering springs will be a welcome improvement.
Each spring set is 100% made in the USA exclusively for EMD Auto. The springs are made of high tensile chrome silicon and each unit is shot peened, pre-set and 100% tested to ensure all the critical dimensions and rate/loads are within tolerance. The springs are then zinc primered for corrosion resistance and finished in a gloss black powder coat for a factory appearance. 
EMD Auto Spring Rate: 275 lb/in (Front) / 300 lb/in (Rear)
Lowering (Front): Approximately 0.8 inches
Lowering (Rear): Approximately 0.8 inches
Are these springs okay for a daily driver? 
Yes, these springs were specifically designed for daily driven vehicles with an emphasis on ride quality.
Will lowering springs cause my factory shocks and struts to wear out prematurely?
Our springs are a linear rate design, similar to the OEM units. As such, they are not expected to cause additional wear on the shocks and struts. The spring heights are also designed to stay within the travel range of the factory shocks and struts. By precisely examining the factory bump stops, spring rates and motion ratios, we have created what we feel is a true no compromise lowering solution for the TT.
Do I need any other items for install?
No other items are needed for install.  
Do I need to trim the bump stops?
You do not need to trim the bump stops.
Are these springs compatible with magnetic ride?
Yes, these springs are fully compatible with magnetic ride and allow the system to function as intended.
All EMD Auto branded lowering springs are covered by a limited lifetime Warranty to the original purchaser. The Warranty covers the Products against factory defects in material and workmanship, other than coatings, when used on the advertised application under normal use and operating conditions. These Warranties only apply to the original purchaser who retains ownership of the vehicle on which the Products were originally installed (the "Purchaser"). EMD Auto will repair, replace or refund the purchase price of the defective product at their sole digression, which shall fully satisfy and discharge any and all warranty claims.
This Warranty does not apply to any products:
That have been improperly installed or have not been properly installed by a qualified auto mechanic with experience in the removal and install of suspension products.
That have been misused, modified, altered or subjected to an accident or collision.
That have been installed in conjunction with aftermarket supporting items.
Presented for warranty coverage by a person other than the Purchaser.
Presented for warranty coverage after being used on a vehicle other than the one on which it was originally installed.
To make a claim, the Purchaser should contact EMD Auto or the dealer/ distributor from which the Products were originally purchased. Any and all returns must be accompanied by:
A sales receipt verifying the purchase of the Products
A statement containing the Purchaser's contact information, make and model of the vehicle and a brief description of the claimed defect, along with the circumstances under which the defect occurred.
Warranty claims made without the required supporting documents can lead to delay and/or rejection of the claim. C.O.D. or collect shipments will be refused. Once the returns are received, EMD Auto will evaluate the Products, verify the proof of purchase, and investigate the statement.
The Purchaser is responsible for returning the Products to EMD Auto, including shipping costs as well as costs incurred for removing and installing the Products on the vehicle. EMD Auto does not warranty labor costs.
---
More from this collection