Neuspeed Hi-Flo Discharge Conversion
Neuspeed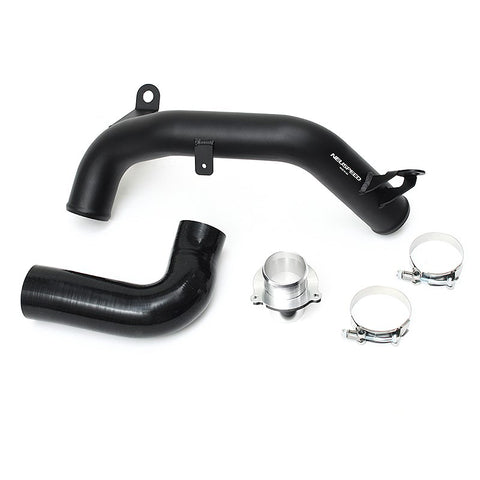 The NEUSPEED Turbo Discharge Kit for MQB/MK7 is the first to offer full flow from the turbo outlet to the intercooler hose and it's made in USA. With so many of our current products being copied we ask that you support the innovator NEUSPEED not the imitators.
Originator of the Hi-Flo Discharge Pipe we offer; the First, Highest Quality, Most Complete Turbo Discharge Kit for MQB/MK7. We eliminated all the serious restrictions on the turbo discharge side, while some company's make only a muffler delete then necks down to the stock plastic pipe 1.5" (38mm) ID and other company's only make a pressure pipe to neck down to the stock turbo outlet 1.6" (40 mm). That's minimal air flow gain compared to the NEUSPEED Discharge Kit.
Stock Plastic Discharge Pipe Flow: 302 CFM
NEUSPEED Aluminum Discharge Pipe Flow: 500 CFM
The NEUSPEED Hi-Flow Turbo Discharge Conversion Kit includes all the parts needed to remove the serious restriction from the discharge side of the turbocharger. Included are: a machined billet aluminum discharge adapter that reduces restriction with its full size smooth bore exit for better flow to transition out of the turbo and then into a 2.5" (63.5mm) ID silicone hose. The next and most important item in the kit, our aluminum mandrel bent, one piece (NO welded sections)  full size 2.5" (63.5mm) OD discharge pipe utilizing the factory rubber mounts with rolled lips on both ends to make a more secure silicone hose connection with included "T" bolt hose clamps.
With this kit installed, you can expect better response, less turbo lag, more horsepower and torque.
Notes:
CARB Exempt. EO# D-236-19
Fits: 2014-up Audi A3/S3/TT 1.8/2.0TSI and 2015-up VW GTI, Golf R, Golf 1.8TSI and ALLTRACK
Features:
Billet 6061 Aluminum Turbo Discharge Adapter - Deletes Muffler
Available in Black, Red, and Blue
2.5"  ID Outlet 4-Ply Silicone Hose
2.5" OD Mandrel Bent, One Piece Aluminum Tubing Utilizing Factory Rubber Mounts
"T" Bolt Hose Clamps
Designed and Engineered in Camarillo, CA.
Proudly Manufactured in USA.
Actual Parts Shown.
---
More from this collection