Neuspeed RSe102 Wheel l 19x9.0 ET45
Neuspeed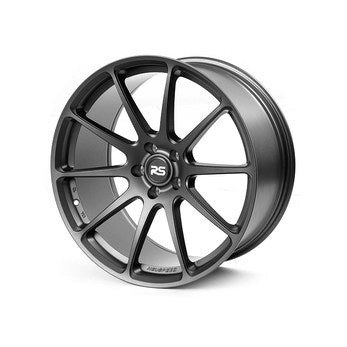 Introducing the all new RSe102 light weight wheels, a modern rendition of our classic and original full forged RS10.
The RSe102 shares the same 10-spoke count but the full-face profile and bevel lip modernize its design. 
Each RSe102 is spec-ed specifically for the assigned vehicle, which translates to complete direct bolt-on fitment utilizing factory lug bolts, center caps, as well as tire pressure monitoring sensors (if applicable) – No spacers or adapters!
The same as NEUSPEED's other wheels, the RSe102 is manufactured utilizing Flow Forming process. It is a hybrid process between low pressure casting and forging technology. This process produces ultra light weight wheel similar to full forged wheels but fraction of the cost. 

Weighing just a mere 20.8 lbs, The RSe102 wheels will enhance your driving experience cosmetically as well as performance by reducing the rotational mass or unsprung weight.
Size: 19x9.0
Offset (E.T.): +45mm
PCD (Bolt Pattern): 5-112
Center Bore: 66.5mm / 57.1mm (with hub ring)
Weight: 20.8 lbs.
Recommended Tire Size:
245/35R19  (Audi TT / VW Beetle)
255/35R19**  (Audi TT/ VW Beetle)
245/45R19  (Tiguan)
245/40R19  (CC / Passat B7) (Passat B6 **)
235/35R19 (Golf MK7)
245/35R19 ** (Golf MK7)
** Aggresive fitment - May rub slightly depending on tire brand/model.
Notes:
RSe wheels are OEM TPMS (Tire Pressure Monitoring System) compatible.
Neuspeed RSe Wheels require the use of factory lug bolts. Please consult with our tech should you have aftermarket ones to confirm compatibility with our wheels.
Wheel center cap from late model VWs and Audi vehicles will not seat properly due to change in VW/Audi tooling. We recommend purchasing the following items from dealer if you prefer using factory emblem with Neuspeed RSe wheels.
Audi cap part #: 4B0 601 170
VW cap part #: 3B7 601 171
Compatible with Brembo, Stoptech and many other BBKs without wheel spacers/adapters.
NEUSPEED recommends Michelin Tires (not included).
---
More from this collection