Audi S4/S5 3.0T B8.5 (2013+) GIAC Stage 1 Performance ECU Software Upgrade
GIAC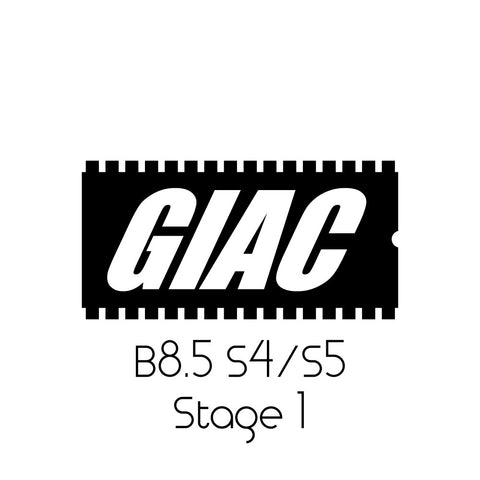 GIAC performance software helps you extract the maximum potential from your Audi S4/S5 3.0T. Power gains have been measured at:
- 71 wheel horsepower and 32 wheel torque on 91 octane
- Estimated crankshaft power output of 415 horsepower and 361 lb. ft. of torque on 91 octane
Required hardware:
- Intake (recommended) 
Price includes GIAC's on-the-fly switching options, in addition to a Flashloader handheld switcher. Switching modes included with software purchase include:
- Stock
- 91/93 octane performance
- 100 octane performance
- Valet mode
To view a demonstration of GIAC's Flashloader switching device, please view:
Also available is GIAC's bluetooth wireless switching device. This device replaces the wired connection to your OBDII port with a bluetooth dongle that pairs to your Android phone. 
Other benefits to GIAC performance software include:
- Improved fuel economy
- Improved throttle response
- Factory levels of drivability
- Removed speed limiter
Not local to Emmanuele Design? Mail us your ECU and we'll flash it same day and pay return shipping! We don't charge any labor fees on new flashes.
---
More from this collection