Audi TT RS 2.5 TFSI GIAC Stage 1 Performance ECU Software Upgrade
GIAC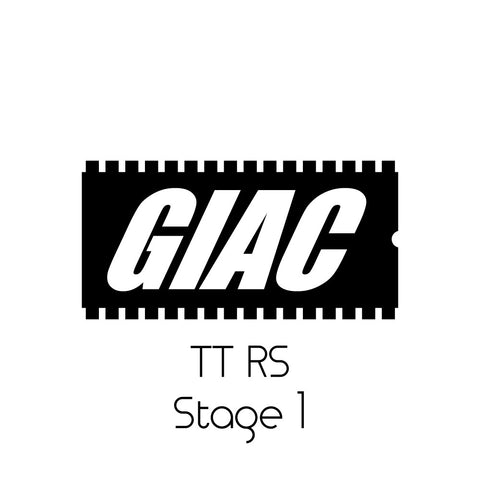 GIAC performance software helps you extract the maximum potential from your Audi TT RS. Power gains have been measured at:
- 30 wheel horsepower and 59 wheel torque on 91 octane
- 69 wheel horsepower and 70 wheel torque on 100 octane
These numbers were measured on a Mustang MD-500 dyno to all four wheels. Don't be fooled by tuners who only dyno to the front wheels. This practice does not produce numbers that are indicative of what you will experience in real world driving.
Price includes 91 or 93 octane performance mode. Additional on-the-fly switching modes can be added. These modes can be seamlessly switched between using GIAC's Flashloader handheld device. Optional modes include:
- Stock
- 100 octane performance
- Valet mode
To view a demonstration of GIAC's Flashloader switching device, please view:
Also available is GIAC's bluetooth wireless switching device. This device replaces the wired connection to your OBDII port with a bluetooth dongle that pairs to your Android phone (iPhone is not supported at this time).
---
More from this collection